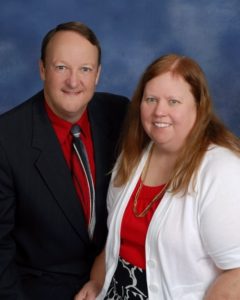 New pastor of First Baptist Garrison, Texas
Dr. Ben Richardson and his wife Kate
I was born in Amory, Mississippi (1960), but grew up in Springfield, Missouri. I was raised in a Christian home and have an older brother (lives in Houston) and an older sister (lives in Boston). I was saved when I was eight years old and surrendered to the Gospel Ministry when I was seventeen. I was licensed in 1979 and ordained in 1983 by Rolling Hills Baptist Church, Springfield, Missouri.
I met my wife, Kate, at Golden Gate Baptist Seminary in California, where she earned a Master of Religious Education degree. We have been married thirty-six years and have three married daughters (with three Godly sons in law), fifteen grand-children (nine girls and six boys). Two of our daughters live in Spring, Texas and one is involved in missions and lives in Asia.
I earned a Bachelor of Arts Degree (Religion and History) from Southwest Baptist University (1981), a Master of Divinity Degree (with Biblical Languages) from Golden Gate Baptist Seminary (1984), and a Doctor of Ministry Degree (In Pastoral Leadership) from Southwestern Baptist Seminary (2013).
I served the Lord and our country as an Army Chaplain for almost 21 years in assignments all around the world. I have spent the last thirteen years serving as Senior Pastor of three churches in Kentucky and Texas. I was
Senior Pastor of Northwest Hills Baptist Church in San Antonio, Texas. I also serve as Adjunct Faculty for Wayland Baptist University, teaching Pastoral Leadership courses to pastors in San Antonio Baptist Association. Additionally, I served as the Lead Chaplain (volunteer) for the Bexar County Sheriff's Office.
Now I am serving as the new pastor at First Baptist Church, Garrison, Texas. Come and visit and see what we are starting in 2019, Financial Peace University course, Experiencing God, Children's Music & Drama and January Bible Study.
All beginning January 6, 2019 at 4:30 pm and 6:00 pm.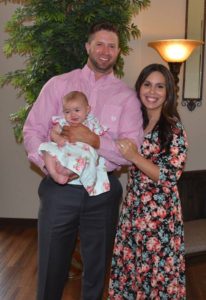 Bradley Barton has been serving as youth leader volunteer since July 2016. He has recently accepted the posiition as Interim Youth Pastor. Bradley and Annettee have a new baby girl Blake. Bradley works with the youth on Wednesday nights from 5:30 pm until 7:30 pm. He helps with the bus ministry, and meets with Youth Committee to plan events and ministry for the youth. Bradley Barton also grew up at First Baptist Church in Garrison.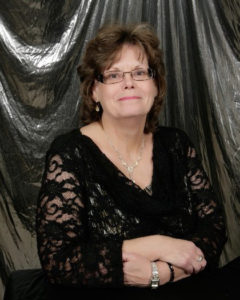 Rosalind Jordan was hired in August 2012. She serves in the capacity of Church Secretary, Treasurer, Church Clerk and works in the church nursery.
Bro. Timothy Roberson and family have joined our staff as Interim Worship Pastor. Bro. Timothy comes from Tenaha. He is also a fireman at Logansport Fire Department. Please help them to feel welcome.